Case Study:
Supercritical Extract vs. Acetone Extract in the Production of Astaxanthin Concentrate
Organic solvents such as acetone and hexane have been used industrially for the extraction of astaxanthin from microalgae. The concentration of astaxanthin in these extracts, however, is limited because liquid solvents cannot differentiate between the lipids and the carotenoid.
Microalgae, such as Haematococcus pluviales, contains about 2% (w/w) astaxanthin and an average 30% total extract of lipids plus astaxanthin. Using organic solvents, the highest theoretical astaxanthin concentration achievable in the extract product is about 6.7%. Organic solvent extraction cannot produce a higher concentrate because the lipids and the astaxanthin are dissolved equally readily by acetone, for example. [The maximum astaxanthin concentration in the extract is calculated from the relation (% astaxanthin in algae) divided (by % extract/100).]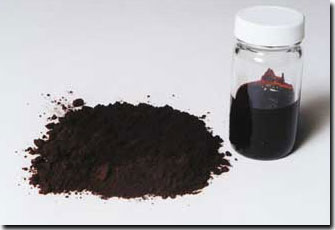 Microalgae and 14% Astaxanthin Concentrate
Much higher astaxanthin extract concentrations are achievable with supercritical fluids because of the ability to tailor their dissolving power (by tuning pressure). Lipids and carotenoids respond differently to supercritical CO2 and can be selectively separated, resulting in an extract high in the carotenoid.
The photograph shows a microalgae feedstock and a 14% astaxanthin concentrate. The table below gives some results from selected plant runs at Phasex using supercritical fluids compared to product typically obtained by acetone extraction.
Asta Content
of
Microalgae Feed
Total Extract*

(lipids & Asta)
Asta content
of supercritical
extract
Asta content
of
acetone extract
Supercritical fluids are similarly applicable for the production of other concentrated carotenoid extract: Lycopene, lutein, zeaxanthin are typical of carotenoid compounds obtained from botanical substrates such as tomato, spinach, corn, and marigold.
Green Chemistry

Supercritical Fluid solvents are environmentally friendly and recyclable.
Supercritical CO2 is certainly a Green Solvent - by far the most common supercritical fluid is gaseous Carbon Dioxide. By adjusting the processing pressure and temperature, the gas can act like a liquid solvent, but with selective dissolving powers. In the supercritical fluid phase, extraction concentration is carried out simply with changes in pressure, which results in a pure product fraction and a clean CO2 gas stream, which is completely recycled to the process.
There are NO hazardous waste streams, NO harsh organic chemicals or residues, and the gaseous solvent is Recyclable.
The Phasex Advantage
Phasex has a long history of success in developing new or improved products in the Nutraceuticals industry. In operation since 1981, the company is a pioneer in applying supercritical fluids to botanicals, vitamins, and supplements extraction, developing and improving a number of concentrated extracts. Phasex has developed several high efficiency extraction processes for concentrating active ingredients:
extracts of carotenoids such as lutein and astaxanthin

EPA/DHA fractions from fish oils and algae

extracts enhanced in sterols concentration from agricultural feedstocks

conjugated lipids and phospholipids
Supercritical fluid extraction of botanical and biological substrates has produced superior quality, solvent-free extracts with increased concentration and thus higher value.
Phasex offers a complete package of Supercritical fluids technology services including Contract Research, Process/Product Development, Toll Manufacturing, and Technology Licensing. With more than 20 years of success, it is the world's most experienced company whose business is solely the application of Supercritical Fluid technology to the development of improved processes and products. Phasex pioneered many of the industrial applications in use today and has developed and commercialized many products. The company is renowned for its technical expertise and innovativeness, its versatile facility, and its ability to rapidly optimize and scale-up processes. Its staff is regularly called upon to present at international symposia on supercritical fluid science and applications. Its new facility, operational 2nd Q 2002, will be the largest specialty materials processing facility in the U.S., and it will be able to carry out large nutraceuticals processing campaigns. Plant A (80 and 150L) plant will continue to handle smaller sized campaigns and also serves as a pilot plant for process optimization and validation.
We grow with our customers' requirements, satisfying their needs at every point in the product evaluation sequence.