Understanding Why it Matters in the CBD Industry
People often assume CBD isolates and distillates are similar, but there are more than just nuances to their differences.
The majority of CBD ingredients used by brand manufacturers and white-label labs is sold to them in the form of either isolates and distillates. A CBD isolate is normally sold in the form of a powder, with most elements of the plant extract having been removed to the point that there is virtually only one molecule (CBD), which means no THC and no other minors.
Alternatively, distillate materials are an oil-based material, which have been refined using heat to distill out many parts of the plant material—leaving a relatively high percentage of CBD and other minors with a concentration and higher percentage of THC. Some forms of distillate material are further refined to convert the THC into other cannabinoids, such as CBN; or the THC is remediated out using a form of chromatography, which requires solvents to perform the removal of THC.
Many ingredient supply companies reinforce their distillate material with isolate materials to provide a greater number of minors in the finished distillate material. In each format, there is a high percentage of CBD ingredient material, which is called either a full- or broad-spectrum distillate. Full-spectrum distillate normally means there is a high percentage of CBD, a number of minor cannabinoids, and either a compliant (less than 0.3%) or higher amount of THC. Broad-spectrum distillate normally means a high percentage of CBD, a few minor cannabinoids, and an ultra-low (below 0.07%) or non-detectible amount of THC.
The Phasex-PHCO2 Solution
PHCO2-branded CBD ingredients are extracted from whole plant hemp using a supercritical CO2 extraction process in our Phasex facility. Phasex utilizes its proprietary supercritical CO2 fluid extraction process to expertly extract, remediate, and purify hemp biomass all the way through to a non-detectable or full-spectrum whole plant hemp extract material found in PHCO2-branded ingredients. Phasex uses its technology to produce Certified Organic and American conventional whole plant hemp extract ingredients and to toll process these same materials for select customers. There are differences among whole plant hemp extracts, isolates, and distillates—and we'd like to discuss them here.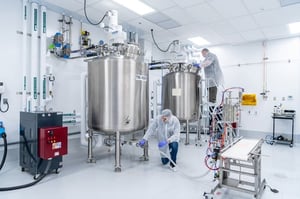 Phasex offers a solution which is close in concept to a distillate material; however, we refer to our material as a full- or broad-spectrum whole plant hemp extract material. The difference in verbiage is based on the difference in the processing method which impacts the material. By definition, a distillate material loses (distills off) a number of components of the plant material—including many of the terpenes, chlorophylls, waxes, and lipids found in the extracted material—and concentrates the THC in the distillate material.
This distillation process is performed using high heat to allow certain components to be distilled out at certain temperatures. This process typically requires the material be further processed to remove the THC, or results in the product manufacturer blending down the amount of CBD to a compliant level of THC, which would likely have the effect of diluting the amount of CBD and other cannabinoids in the final product.
The Phasex proprietary supercritical CO2 extraction and purification process is more selective and leaves many of the terpenes and other cannabinoids in the base extraction material, while removing the appropriate amount of THC to become either compliant (below 0.3% THC), ultra-low (below 0.07%) or non-detectible. Phasex's whole plant hemp extract material will have either a compliant full-spectrum material or an ultra-low to non-detectible amount of THC along with a number of other minor cannabinoids from the same plant. This distinguishes the Phasex process from those that produce distillates or isolates.
A standard distillate material will have a THC percentage above the 0.3% after the distillation process, which means it requires a secondary process to convert the THC to CBN, or remove the THC using chromatography and some form of chemicals to affect the removal of the THC and other cannabinoids.
Entourage of Cannabinoids
As a result, the typical material from Phasex has an entourage of cannabinoids in its broad- and full-spectrum whole plant hemp extracts—which all come from the same biomass material. This is unique and a differentiating element of the Phasex process. This is typically not the case with a distillate material made with a base plant and CBD and then blended with various isolates made from different plants to make an "enriched" CBD distillate.
Phasex entered the market as an ingredient supplier after years of performing toll processing for a variety of companies and seeing the need to provide a more natural version of a CBD material that would not be made using harsh solvents. The supercritical CO2 process allows customers to get a more natural material because the supercritical CO2 process is not made with harsh solvents and doesn't run the risk of having residual levels of solvents. We have found that this manufacturing process fits a need in many market segments, including cosmetics, nutraceuticals, supplements, food and beverage, and pet food.
We're Here to Help with Your Natural Hemp-Derived CBD Ingredients!
If you aren't a grower or don't have the scaling capacity yet, and have requirements for whole plant hemp extract, our conventional line of remediated whole plant hemp extracts is the perfect solution for you. Also available are our PHCO₂™ USDA-Certified Organic whole plant hemp extracts for your ingredient requirements.
We'd love to talk with you about your ingredient needs. Ask us about our USDA-Certified Organic ingredients with all natural minors, in broad-spectrum and full-spectrum; American conventional broad- and full-spectrum; and MDAR-Certified Organic whole plant extracts, also in broad- and full-spectrum. Contact us today to begin the conversation.