Dietary Supplement Case Study
Case Study: Supercritical Extract vs. Acetone Extract in the Production of Astaxanthin Concentrate
Organic solvents such as acetone and hexane have been used industrially for the extraction of astaxanthin from microalgae. The concentration of astaxanthin in these extracts, however, is limited because liquid solvents cannot differentiate between the lipids and the carotenoid.
Microalgae, such as Haematococcus pluviales, contains between 2% to 4% (w/w) astaxanthin and an average 30% to 50% total extract of lipids, plus astaxanthin. Using organic solvents, the highest theoretical astaxanthin concentration achievable in the extract product is about 6.0% to 7.0%. Organic solvent extraction cannot produce a higher concentrate because the lipids and the astaxanthin are dissolved equally readily by acetone, for example. (The maximum astaxanthin concentration in the extract is calculated from the relation [% astaxanthin in algae] divided (by % extract/100).]
Much higher astaxanthin extract concentrations are achievable with supercritical fluids because of the ability to tailor their dissolving power (by tuning pressure). Lipids and carotenoids respond differently to supercritical CO2 and can be selectively separated, resulting in an extract high in the carotenoid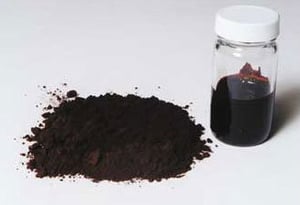 The photograph to the right shows a microalgae feedstock and a 14% astaxanthin concentrate. The table below gives some results from selected plant runs at Phasex using supercritical fluids compared to product typically obtained by acetone extraction.

Supercritical fluids are similarly applicable for the production of other concentrated carotenoid extract: lycopene, lutein, and zeaxanthin are typical of carotenoid compounds obtained from botanical substrates such as tomato, spinach, corn, and marigold.
Phasex can help you ensure maximum product stability, rendering the highest purity and quality for your ingredients.
Contact us now to get the Phasex advantage for your ingredients.