Discussing Full- and Broad-Spectrum CBD
"Whole plant hemp extract"—it's a mouthful, and has been getting lots of exposure. It's often coupled with talk of CBD, but they aren't the same, exactly. Which leads to the next question on people's minds: what's the difference between whole plant hemp extract and CBD?
The first piece of this to clarify is that this conversation usually involves talk about three "types" of whole plant extracts:
Full-spectrum
Broad-spectrum
CBD isolates
These three products come from the cannabis plant, but they all have different properties. An article by Healthline explains, "Full-spectrum CBD products contain small amounts of other cannabinoids, like THC, as well as flavonoids and terpenes, which are beneficial compounds that provide unique scents and flavors." This also applies to broad-spectrum products. CBD isolates are further refined, so they only contain CBD.
Full- and Broad-Spectrum CBD
Breaking this down in more details, full-spectrum whole plant hemp extract means that you are using a product that is from the flower, leaf, and stem to capture the CBD and other minor cannabidiols, which include less than .3% THC. Broad-spectrum whole plant hemp extract uses the same parts of the plant, flower, leaf, and stem, while capturing the CBD and other minor cannabidiols—but with 0.0 % THC.
A true full-spectrum and/or broad-spectrum product will always mean it is made with whole plant hemp extract, targeting key cannabidiols such as CBD, CBDv, CBC, CBG, CBT and many others, as they are in the plant's natural ratios. Most isolate CBD products on the market today target using multiple single chemical isolated compounds mixed without preserving the natural plant ratios.
When using all the plant's cannabinoids, terpenes, and remaining compounds in the extract, it means you'll have more action/effectiveness in products, resulting in greater health properties for the brain and body. Many believe that the synergistic action of all these compounds is the true health benefit, commonly referred to as the entourage effect, as noted in Medical News Today's article.
Continued research further bolsters the impact of the entourage effect, rendering full- and broad-spectrum products more effective. One such study from 2018 indicates that terpenes and flavonoids in cannabis may offer neuroprotective benefits.
Why Should You Care?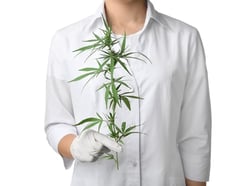 Many don't know why they should care about using full-spectrum hemp products or broad-spectrum hemp products over single-molecule versions, such as one cannabidiol isolate (CBD). Why use a whole plant hemp extract with high CBD and other minors when​ you can just take an isolate? As Medical News Today says, you can target specific concerns, such as pain and inflammation, but it generally requires very specific (and often higher) dosages with a CBD isolate.
When whole plant hemp extract is processed, it is done so with the goal of capturing the natural ratios of cannabinoids and terpenes, especially minor compounds, from the whole plant. The extraction process can be done using supercritical CO2, ethanol, or other solvents. Isolates are often extracted with the use of ethanol as a solvent, not as pure a process as supercritical CO2 extraction.
You might also hear the about whole-plant hemp extracts with regard to using the whole flower with MCT oil, hemp oil, or even whole hemp flower in hemp seed oils, MCT oil, and so on. All of this is just a play on words or creative marketing for their products.
Mindbodygreen sums it up nicely in their article: "Full-spectrum hemp oil (not to be confused with hemp seed oil) is an extract only derived from hemp. Hemp is the term for a cannabis plant with 0.3% tetrahydrocannabinol (THC) or less—not enough for mind-altering effects. In contrast, a CBD oil can be extracted from either hemp or marijuana. Marijuana is the term for cannabis plants with higher levels of THC. Full-spectrum hemp oil contains all of the naturally available compounds the hemp plant has to offer, including CBD and more than 100 cannabinoids and a host of terpenes and flavonoids to boot. This is different from a CBD isolate product that will only contain a single cannabinoid: CBD."
Many people have the impression that their CBD products are made with whole plant hemp extract, but that is not the case for much of what is on the market today. A truly whole plant hemp extract would provide everything that is in the strain/breed of that plant. It would use the entire mature flower/bud, leaf, and some stem from the hemp plant with the desire to capture all the plant key compound—i.e., CBD, CBDV, CBC, CBG, CBN, CBT, and many others.
In Keeping with Nature
In the whole plant hemp extract, there is a specific ratio of cannabidiol compounds, as in nature. Most varieties of hemp target the key cannabidiol health benefits that are significant. Knowing which cannabidiols of the whole plant hemp extract that work for your purpose is an important aspect of finding the correct products. When considering the source of CBD products, instead of using one that isolates only one compound—as most pharmaceutical companies do in their process—look closer and explore using the whole plant hemp extract compounds for a more optimal, balanced affect with your body and mind, just as nature intended.
About PHCO2
PHCO2 is an industry leader in whole plant hemp extraction with almost 40 years of expertise and heritage with patented supercritical CO2 extractions. This innovative, proprietary food-grade, state-of-the-art CO2 extraction process serves growers, both conventional and organic farms, with whole plant hemp extract purification. We also offer a line of PHCO2 brand 100% USDA-Certified Organic ingredients—first in the industry to do so—offering broad- and full-spectrum ingredients for companies that require non-detectable or compliant THC purification. PHCO2 is GMP third-party certified for operation in compliance with 21 CFR 111 and 21 CFR 117 regulations and is known for its reputation of employing scientific, proven methodology for its superior CO2 extraction and purification process. PHCO2 ingredients are grown, processed, and packaged in the U.S.A.
We'd love to talk with you about your ingredient needs. Ask us about our USDA-Certified Organic ingredients with all natural minors, in broad-spectrum and full-spectrum; American conventional broad- and full-spectrum; and MDAR-Certified Organic whole plant extracts, also in broad- and full-spectrum. Contact us today to begin the conversation.