Yield Better Concentrations and Purifications of Actives
We're always eager to talk about the benefits of supercritical fluid CO2 extraction. When Hans Schonemann, Phasex's chief technology officer—who has been with us for 30 years—had the opportunity to speak recently at the Northeast Section Institute of Food Technologists (NEIFT) Food Industry Expo at the DCU Center in Worcester, MA on May 17, we were thrilled to have him representing Phasex at the expo. The expo consisted of morning guest speakers, followed by over 90 company-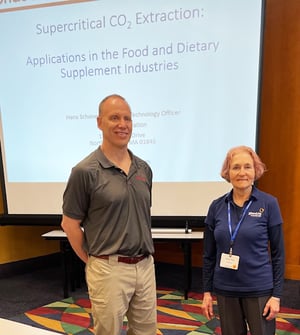 sponsored booths in an exhibition hall during the afternoon. Attendance was solid, with a very attentive and enthusiastic group of participants and companies that were eager to move past the confinements of COVID-19 and restart their in-person business networking. Participants of the expo ranged from product salespeople, equipment suppliers, manufacturing managers, R&D and product formulators, and engineers.
Hans was the lead keynote speaker in the morning session, providing a very compelling and fundamental display of CO2 supercritical fluid extraction and how this technology can and is being applied in the food and dietary supplement industry.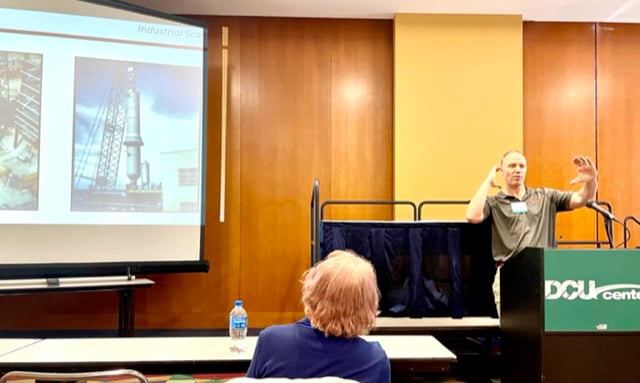 He talked about CO2 supercritical fluid extraction's use with commercially known products, how CO2 extraction enhances quality, flavor, and potency, and the ability to apply it at industrial scale. Hans discussed, in detail, what supercritical fluid (SCF) is. It is also commonly referred to as supercritical CO2 (SC CO2), and he provided information about the benefits of using SC CO2 compared to solvents. Hans continued with case study applications in the food and dietary supplement industries, speaking to specifics regarding natural product extract applications.
Among the work Phasex has done for the concentration, separation, and purification of actives in material they have processed are:
Astaxanthin from lipids
Cholesterol from egg-yolk protein
CBD (cannabidiol) from THC/hemp extract oil
Purification of omega-3 oils (DHA, EPA, ARA)
In the overview of Phasex, participants learned that Phasex was founded in 1981 by Val Krukonis (MIT, Sc.D.), who co-wrote the book on supercritical fluid extraction, and the company's experience and reputation for its pioneering work for SC CO2 applications. Phasex has 40-years' experience scaling lab process to commercial scale, and performs commercial-scale toll processing, along with pilot scale/test market quantities. Lab-scale levels are up to 100g and pilot-scale levels are up to multi-kg; commercial scale is up to metric tons.
Phasex has four active CO2 extraction suites (and is soon expanding to a fifth suite), with a versatile operation, able to process solid and liquid feeds. Customers are pleased to know that Phasex provides third-party cGMP certification, material holds USDA-Organic certification, and the facility is kosher certified.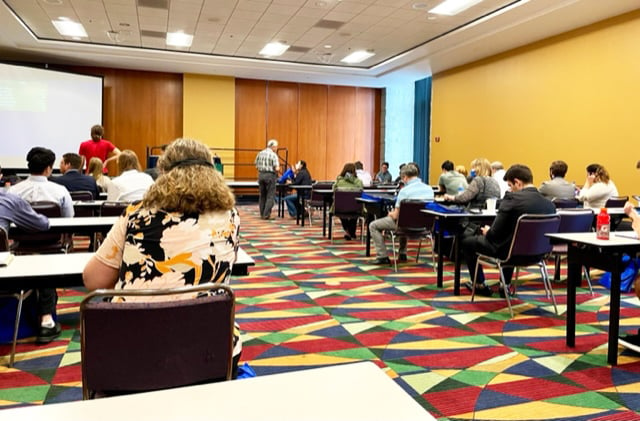 Participants of the session were interested about the CO2 technology presentation. Some of the questions they inquired further about were:
What is the difference between subcritical versus supercritical CO2 extraction?
What are the fractionation capabilities of CO2 extraction?
How do the economic costs of CO2 extraction compare to solvent-based extraction?
Here's a brief answer to these three questions. We're happy to talk with you in more detail if you contact us or call us at (978) 794-8686.
What are the differences between subcritical versus supercritical CO2 extraction?
Subcritical CO2 extraction is a process carried out below the critical temperature of CO2, which is 31°C. Supercritical CO2 extraction is a process carried out above the critical temperature. When above the critical temperature of CO2, one may exploit the pressure-dependent dissolving powers of supercritical CO2 to, perhaps, collect a more highly concentrated fraction of an active or fractionation various species.
What are the fractionation capabilities of CO2 extraction?
As discussed above, when operating above the critical temperature of CO2, one can exploit its pressure-dependent dissolving powers to fractionate a mixture of components by molecular weight. Polymers can be fractionated and purified by molecular weight (MW) and reactive monomers can be purified of low MW impurities. The supercritical CO2 extraction process can preferentially concentrate and purify botanical actives better than can be accomplished with traditional solvent extraction techniques by fine tuning the extraction pressure of the process.
How do the economic costs of CO2 extraction compare to solvent-based extraction?
As with any process, the scale at which the process is carried out will greatly affect the operational costs. As discussed in my seminar, coffee and tea decaffeination is being carried out with CO2 extraction at commercial scale for a commodity product. Also, commercial-scale hops extraction is being carried out using supercritical CO2 at low cost. The commercial level cost-of-goods for a supercritical CO2 extraction process are comparable to solvent-based extraction processes.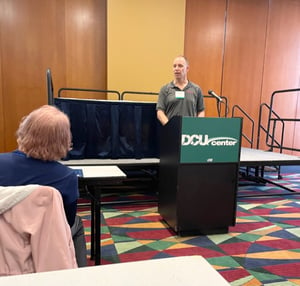 The Phasex Advantage
Phasex applies the unique properties of supercritical CO2 to solve difficult separation problems that cannot be readily solved by traditional solvent extraction and distillation methods. We apply SC CO2 in a broad segment of industries, ranging from natural extracts and dietary supplements, industrial polymers, and medical components. Phasex acts as a service provider for customers who have a particular active ingredient to be extracted from a raw material (botanical substrate). We use one technology—SC CO2 extraction and fractionation—to separate, purify, concentrate, and extract various natural products at commercial scale.
We're happy to answer any questions you have about supercritical fluid CO2 extraction. There are various applications for it, and we're confident that this solution for your processing requirements will render optimal results. Contact us now so we can discuss how we can help you yield the best results for your material.